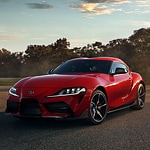 The finely tuned engine in the Toyota GR Supra is a combination of BMW power and reliability. The new Supra has the same twin-turbo supercharged engine in the BMW M340i and Z4 M40i. With the new engine, you get 335 horsepower and 365 pound-feet of torque. It's also married to an eight-speed automatic transmission. With this combination, you get to 60 mph in 4.1 seconds. Technically, the Supra is hands-down the best sports coupe on the market in our opinion.
The adaptive suspension and slip-differential combined with the powerful engine delivers incredible acceleration and power. Supra engineers also stated that fuel economy wasn't the goal with the latest model. However, it still gets 31 mpg on the highway thanks to its tuning.
It's time to get into a new sports coupe, don't you think? You can check out the latest Toyota Supra when you visit Cavender Toyota centrally located in San Antonio.